Description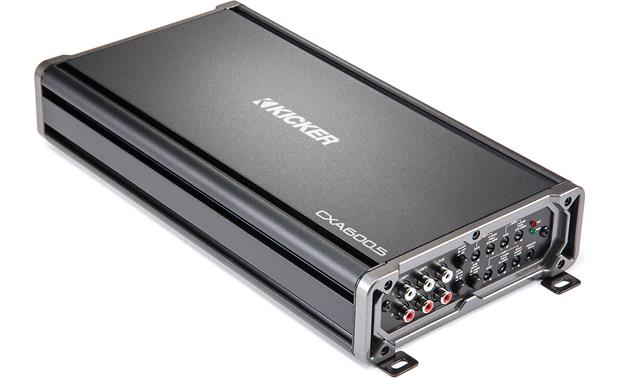 Power for all your music
Need some power for your speaker/sub system? Kicker's CXA600.5 5-channel amplifier will send 40 watts RMS to each of your front and rear speakers, plus up to 300 watts RMS to your sub, all from a single chassis. If you just want to amplify your front speakers and sub, the CXA600.5 can deliver 150 watts RMS to each speaker and 300 watts RMS to the sub.
Tone controls for the best sound
Separate high-pass filters on the front and rear channels help you sculpt the sound to get the most out of your speakers. A variable low-pass and a fixed subsonic filter help you tune the bass for your sub, enclosure, and vehicle, while a variable bass boost allows you to add some low-end punch. An optional wired remote lets you conveniently adjust the bass level from your front seat.
Hooks in almost anywhere in almost any position
Kicker's Fail-Safe Integration Technology (FIT™) keeps this amp's input free from noise or interference, so you can tap into your speaker wires for a signal without a worry. The CXA600.5 comes with hardware that lets you mount it vertically, so you can put it in a location that takes up very little floor space and looks cool too.
Product highlights:
5-channel car amplifier
40 watts RMS x 4 + 150 watts RMS x 1 at 4 ohms
75 watts RMS x 4 + 300 watts RMS x 1 at 2 ohms
150 watts RMS x 2 bridged at 4 ohms + 300 watts RMS x 1 at 2 ohms
CEA-2006 compliant
Class AB amp technology on front and rear channels, Class D on sub channel
variable high-pass filters (off-200 Hz, 12 dB/octave) on front and rear channels
variable low-pass filter (50-200 Hz, 12 dB/octave) on subwoofer channel
fixed subsonic filter (25 Hz, 24 dB/octave) on subwoofer channel
variable bass boost (0-12 dB at 40 Hz) on subwoofer channel
frequency response: 10-20,000 Hz
Other Features:
preamp and speaker-level inputs (speaker wire to RCA adaptersrequired for speaker-level input)
balanced differential inputs reduce noise and interference
optional remote bass level controller available
4-gauge power and ground leads and an 80-amp fuse recommended — wiring and hardware not included with amplifier
no onboard fuses — when installing multiple amps in a system, an additional 80-amp in-line fuse between the distribution block and this amplifier is recommended
includes hardware for vertical mounting
dimensions: 14″W x 2-3/8″H x 6-11/16″D